We apologize for the inconvenience, but Casa Papaya will be closing our B & B Rooms through mid June, for Public health and safety reasons. Our March dinners will continue with all safety precautions observed.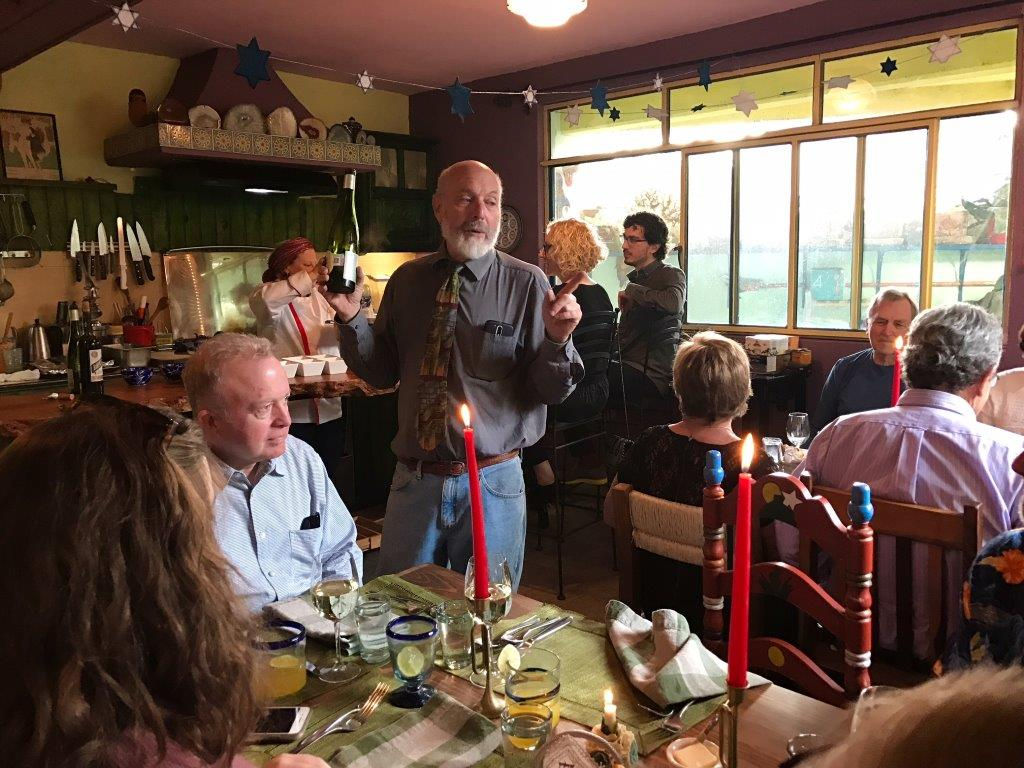 Dining Events at Casa Papaya 
Our Chef's Dinners are Multi course events based on some of Chef Lee's favorite things to cook and eat. Dinners are fixed price and BYOB.
Our Pizza Sundays are rooftop parties where San Miguel's best Wood Oven Pizza is served from 3-7 PM along with salad, appetizer, dessert and non alcoholic beverage.  Pizza Sunday event food prices are a la carte and BYOB
Pizza Sunday:  March 22 3-7PM
Please call or email for reservations
Chef's Dinners in March 
Note:  Reservations are available for our March Dinners and Pizza Sunday.  All Care will be taken with sanitation, and seats will be limited for safety.
Thursday March 19: A Night in Istanbul
Thursday March 26:  Spain and Portugal: Tapas and More
Price for Dinner is 750 pesos, including all food and cocktail.  Please BYOB wine or beer  for dinner.
The Bed and Breakfast
Lee Duberman and Richard Fink invite you to the (most likely) last chapter in their story of food, drink and family!
Lee and Richard moved to San Miguel with their son Noah and their dog Bailey after 30 years in Vermont.  They met while teaching and bartending at the New England Culinary Institute, and within a few years had created four restaurants and two wonderful sons together.  Their most well known restaurant, Ariel's in Brookfield, Vermont, provided 21 years of fine farm-to-table dining to Central Vermont, and their reputation spread much further.
They fell in love with San Miguel their first time here in 2001, and for many years they have been plotting their move.  Finally, they are here to stay.
Casa Papaya is Lee and Richard's San Miguel home. It is an experiment in hospitality, encompassing three B&B guest rooms,  Chef's dinners open to the public, a wood-fired oven on the roof, providing hand-crafted pizzas on Sunday afternoons, market tours, cooking classes and small-event catering.
Casa Papaya San Miguel is a No Smoking Business  .  We do not allow smoking in guest rooms or public areas, including the roof and the courtyard.  No children under 10 are allowed to stay in the B & B, but they are welcome for our Pizza Sundays!
We hope to meet you soon!  Please explore our website for details on all we have to offer, and contact us for more information and reservations, or to be added to our mailing list.

~ Lee Duberman, Richard Fink, and Bailey the Dog
Casa Papaya San Miguel
Callejon de Alcocer #11,
San Miguel de Allende, Mexico
Phone:  415-152-7014
Email:  info@casapapayasanmiguel.com