Casa Papaya San Miguel is a small events location and Dining Club. To see what we're up to please email us at info@casapapaysanmiguel.com and ask to be put on our mailing list.
Casa Papaya will also be starting a Dental tourism program. When you make a reservation to stay with us we will help you contact reputable dentists in San Miguel to discuss the work needed and the cost, and to make appointments. The minimum stay at Casa Papaya for this program is 1 week. You can purchase a separate meal plan appropriate for your dental work, and we can help you arrange transport to and from the dentist, as well as our usual help with transport to and from the local airports. Please email us if you would like to further discuss this program with us.
We are so excited to start this next stage in the life of Casa Papaya San Miguel. We hope to see you very soon!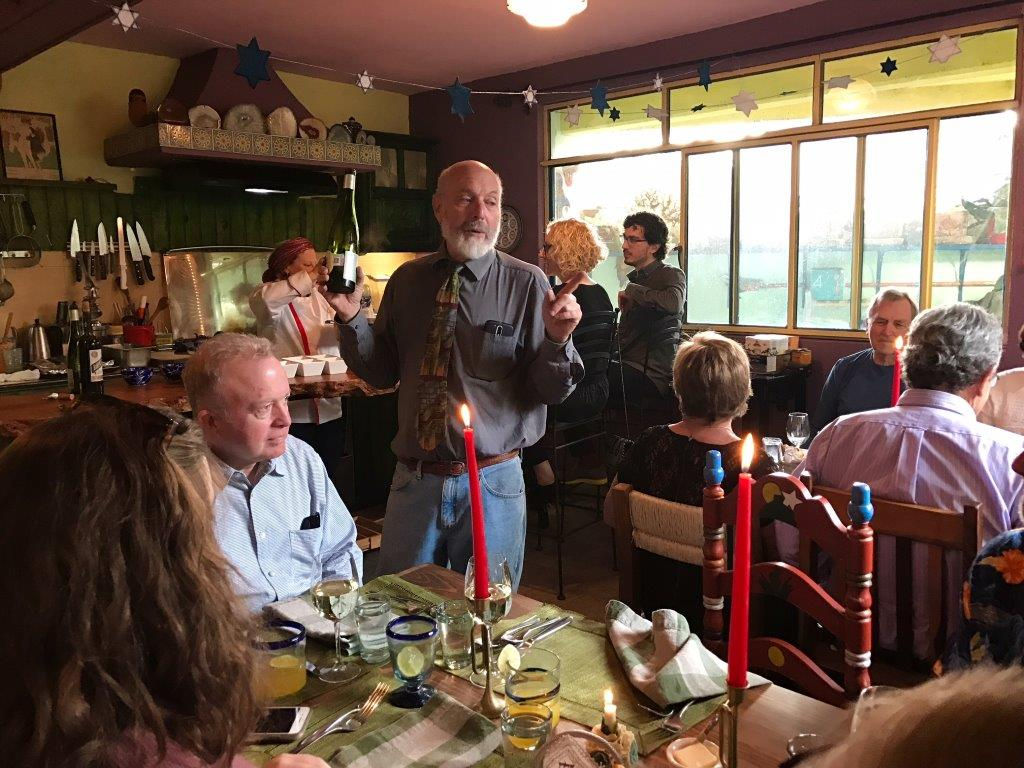 Our Supper Club Chef's Dinners are Multi course events based on some of Chef Lee's favorite things to cook and eat. Dinners are fixed price and BYOB.  They are open to anyone who is on our mailing list.
Our Pizza Sundays are rooftop parties where San Miguel's best Wood Oven Pizza is served from 3-7 PM along with salad, appetizer, dessert and non alcoholic beverage.  You are invited to bring wine or beer to have with your pizza. You can access our Pizza dates by getting on our mailing list, or go to our menu page for information.
Please go to our Menu page to see the schedule of events, then email for information or reservations. 
Lee Duberman and Richard Fink invite you to the (most likely) last chapter in their story of food, drink and family!
Lee and Richard moved to San Miguel with their son Noah and their dog Bailey after 30 years in Vermont.  They met while teaching and bartending at the New England Culinary Institute, and within a few years had created four restaurants and two wonderful children together.  Their most well known restaurant, Ariel's in Brookfield, Vermont, provided 21 years of fine farm-to-table dining to Central Vermont, and their reputation spread much further.
They fell in love with San Miguel their first time here in 2001, and for many years they have been plotting their move.  Finally, they are here to stay.
Casa Papaya is Lee and Richard's San Miguel home. It is an experiment in hospitality, with a Supper club including  Chef's dinners open to the public, a wood-fired oven on the roof, providing hand-crafted pizzas on certain Sunday afternoons, market tours, cooking classes and small-event catering.
Casa Papaya San Miguel is a No Smoking Business  .  We do not allow smoking in  rooms or public areas, including the roof and the courtyard.  Please contact us directly for information about Casa Papaya.
We hope to meet you soon!  Please explore our website for details on all we have to offer, and contact us for more information and reservations, or to be added to our mailing list.

~ Lee Duberman, Richard Fink, Bailey the Dog and Lupita, Blue and Navi, the Cats
Casa Papaya San Miguel
Callejon de Alcocer #11,
San Miguel de Allende, Mexico
Cell Phone or WhatsApp:  +52-415-167-0318
Email:  info@casapapayasanmiguel.com