Innkeeper's Suggestions…Just a few things that we love to do, see, and eat in San Miguel!
Please ask us to help you with reservations and arranging transportation.
~~~
To Do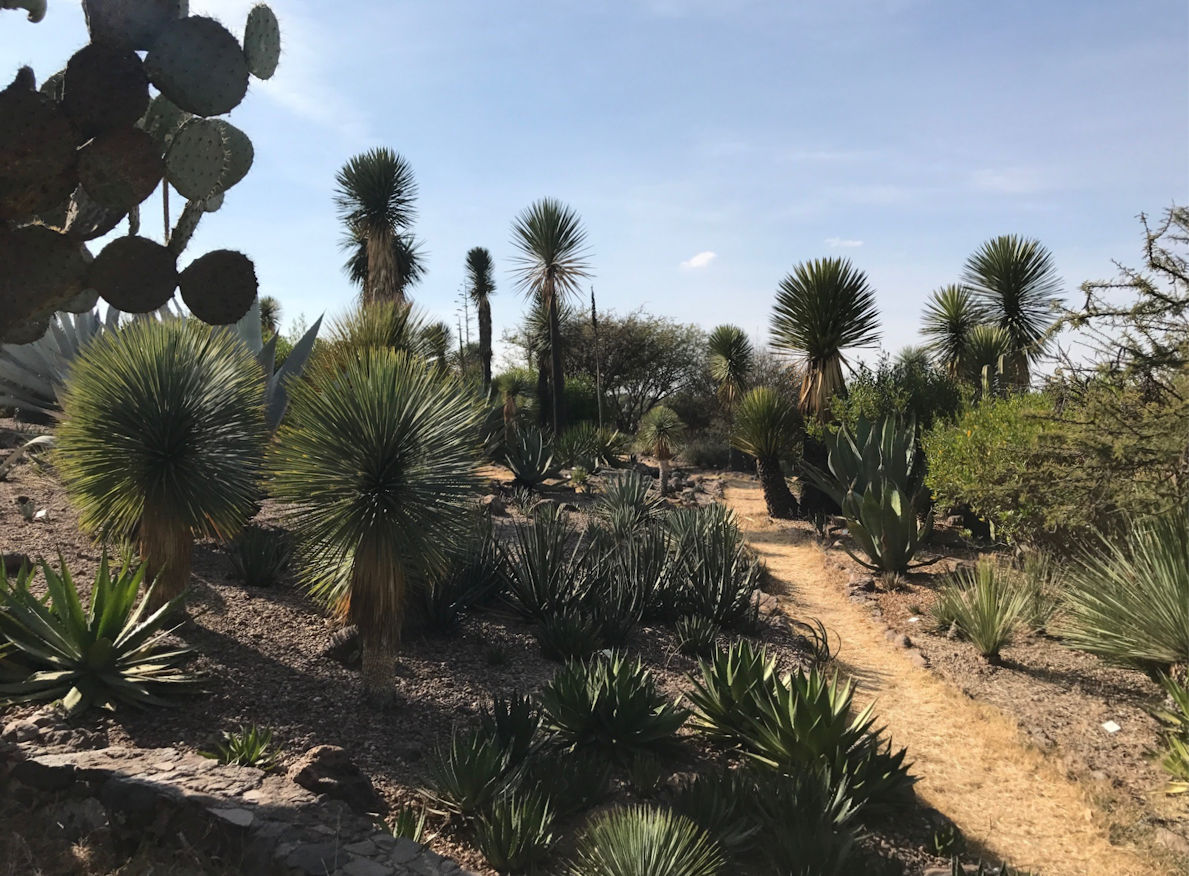 El Charco:  You must spend a half day at this wonderful botanical garden, an easy 5-minute drive or ½ hour walk from Casa Papaya.  There are hundreds of varieties of cactus and other desert plants.  A series of greenhouses will acquaint you with some of the varieties that you will encounter on your hike.  The walking is easy and not too hilly, you can choose your distance, but make sure to bring good shoes.  Entry fee is 40 pesos at the door, they will call a taxi for you to take you home or downtown when you're done.  Bring bottled water, or buy a beverage at their small cafe.
Fabrica La Aurora:  On the other side of town, an easy taxi ride or a 15 minute walk from the Jardin, is this old fabric factory that has been made into a showplace for local and international artists – workshops, galleries, furniture, and antiques.  Lots to see and to buy.  There are two lovely cafes, one inside the Fabrica and one at the end of the parking lot (Geek and Coffee) that make fabulous cappuccinos and light lunches.
La Gruta:  A 15-minute taxi drive just outside of town will bring you to this fabulous, relaxing hot spring.  In a series of pools from warm to hot in a tropical environment surrounded by banana trees and well tended lawns, you can spend a few hours (or all day if you wish) floating in the restorative waters.  There is a cafe with a full menu for lunch, and you can arrange for a massage at the small spa on the premises.  The entry fee is approx. 150 pesos, and Casa Papaya will provide you with a towel.  You can get a locker for your clothes and valuables for a 50-peso deposit.
The Artisan's Market:  The best place for shopping for Mexican crafts and fabulous gifts to take home is this 4-block market of stalls and artisans.  It is open seven days a week, usually getting started at about 10:30 and going until sunset.  Bring or buy a shopping bag and plenty of pesos.  The prices are good, but most stalls don't take credit cards.
~~~

To Eat
Of course everyone's idea of the perfect place to eat is different.  Here are a few of our favorites by category.
Please be aware that San Miguel's biggest industry is tourism, and they go far out of their way to make sure that their honored guests stay healthy.  All of the ice provided in restaurants is by law from bottled water.  You can buy a bottle of water at any restaurant, but be aware that if they offer you free water it is from a "garafón," a bottle of filtered water, and is completely safe.  Sparkling water is sold at every restaurant as "agua mineral."  Salad greens are washed with an iodized solution, and it is highly unusual to experience any gastric problems from eating in San Miguel, even street food.  If we recommend a place, we have been eating there with no problems for at least several years.
High End
At the best restaurants in San Miguel you will get an amazing meal for half of what it would cost in the states.  These restaurants will take credit or debit cards, and reservations are recommended.
La Parada:  Peruvian cuisine in a comfortable atmosphere by a creative female chef.  If you like ceviche, this is the place.  Open noon to 9 or 10 PM every day except Tuesday.
Nomada Cocina de Interpretation:  Another great place for creative cuisine using great local ingredients.  Open 9AM- 10PM every day except Tuesday, on Hernandez Macias, in Centro.
Bistro 300:  Excellent Steak, seafood, appetizers and drinks slightly hidden away in a former parking lot, but very comfortable and attractive.  Good Service as well.  Quebrada 18D, Zona Centro, 37700 San Miguel de Allende.  Hours:  9AM to 10PM Tuesday through Saturday, 9AM-6:30 PM Sunday, closed Monday.
Cocktails at the Rosewood:  An Absolute must for a visit to San Miguel, the Rosewood Hotel Rooftop has the best views in town.  A cocktail at Sunset is a must do.  Get there at least 1 hour before sunset though, they will close the rooftop if it gets filled up, which it often does on weekends and holidays.   Open 7 days/week.
More Casual Dining
Hecho en Mexico:  Very popular with both locals and visitors, the wide-ranging menu is well priced, well prepared, and very accessible, with both Mexican and American style dishes.  Fabulous salads as well, and a very comfortable atmosphere.  No reservations, and be prepared to wait for a table on weekends at dinner time.  Open noon – 11PM every day.  Calle Ancho de San Antonio 8.
Tacos Don Felix:  Open on on weekends (Friday and Saturday, 4-11PM, Sunday 1-11PM), this old-style family run Mexican restaurant excels at big plates of enchiladas, assorted tacos, and grilled meats and seafood.  Great big margaritas as well!  Just outside of Centro, so get a taxi there and ask them to call one for you to get back.  15th Fray Juan de San Miguel, Independencia.  Cash only.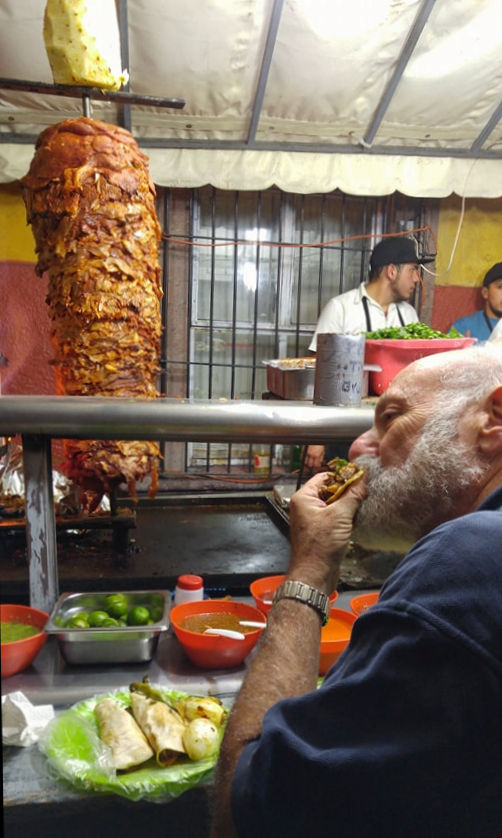 Turk:  Wonderful, casual Turkish/Middle Eastern food in a modern comfortable setting.  Ali, the owner, will take good care of you.  Tell him Lee and Richard sent you!   Salida a Celaya 16, 37760 San Miguel de Allende,  Open Tuesday through Saturday 1PM-9; Sunday 10:30 AM-6.  Closed Monday
---
Mare Nostrum:  If you're in the mood for Italian, this is the best.  Run by a husband and wife from Argentina, the pizzas are good, and the pastas (all handmade in house) and salads are fabulous.  Open 7 nights/week.  Umaran 56, Centro (just a few blocks from the Jardin).
Azotea:  This rooftop bar with appetizers and good drinks is THE place to be at sunset in San Miguel.  It's just off the Jardin at Umaran 6.  No reservations, and the place is packed at sunset on weekends, but try it for the great view and the jicama shrimp tacos.  Open 1PM-midnight every day.
Street Food
Andy's Taco Cart:  Our favorite place to eat in San Miguel.  Really.  Don't let a fear of street food stop you from trying everyone's favorite tacos.  The cart is not open until about 8, or whenever they are ready.   Order two to four tacos, or one or two gringas (flour tortillas, melted cheese, meat)  with their famous pastor.  An amazing meal for about $2.00.  Corner of Insurgentes and Hidalgo, Centro.