Why I'm Here

When I first got an Email from Ben asking me advice on opening a Mexican restaurant in Cali, Colombia I gave him the same advice I always give to someone who wants to open a restaurant with no experience: Don't be a ****ing idiot! But it turned out that this young (27 year old) guy, who had fallen in love with this Salsa dance mad city near the Pacific coast of Colombia was dead serious, and nothing I (or his parents) could say would talk him out of it. So when he asked me if I would come down to Cali for 2 weeks to consult, set up the equipment needs and menu for a fast-casual Mexican restaurant, write the recipes and train the chef he'd hired, I jumped at the opportunity. First, it was a fabulous opportunity to see a part of the world that I was totally unfamiliar with. Also a chance to hone my consulting skills and do what I love – set up a new restaurant- without the risk taking inherent in investing my own money and running it myself. In other words a kind of dine and dash situation. Then Ben sealed the deal with the suggestion that part of my compensation would be a daily Salsa dance lesson. Yes! I'm in!
So here I am in Cali! I've been here almost a week, and though the heat is pretty hard to take it's been a fabulous experience so far. First: the place I'm staying:
In 1973 I hitchhiked around Great Britain with my best friend Erin, and we stayed in funky youth hostels just like this one! Here at Casa Miraflores, co-living hostal for Artists, Entrepreneurs, Travelers etc etc at least I have my own room. It's in a great neighborhood, and it,s sweet having access to a kitchen and lots of well designed public spaces with great wifi for working, which is I'm sure why Ben set me up here. The downsides: no air conditioning (the average daily temp here right now is about 93) and the average age of the other residents is about 30 years less than my age. It's very quiet until about 9PM, then it's a party until midnight, when the residents tend to grab a taxi and head out to a club. So that's when I sleep.
My first few days here were all about going to the markets. My biggest challenge in developing the recipes for El Coyote (the name of Ben's restaurant) will be trying to imitate the flavors of Mexico with a completely different set of ingredients. You'd expect that Latin countries with similar climates and topographies would have similar produce, right? Uh Uh. Colombia has a complete lack of interest in Chiles, and so very few exist. The Colombian palate is very attuned to bland, starchy foods. There are absolutely no dried red chiles – no Anchos, Guahillos, Mulattos, Pasillas. And no Poblanos or tomatillos. These are the things on which my Mexican recipes are based, but I have to figure out how to make salsas taste Mexican without them. Luckily, I do have plenty of cilantro and limes, so that's what I'll have to use for the flavor profile. Next week is recipe testing, so I'll be sure to let you know how it all comes out! One thing I'm really loving is the variety of incredible fruits here that I've never seen anywhere else, even in Mexico. These are part of one day's haul, spread out on my bed at the hostel. There's Mangosteen (very rare and absolutely delicious – it's those little purple things), Pitahaya (a smaller yellow dragonfruit that tastes like honey and vanilla – yum!), and other weird things that I have really no taste memory to compare them with.
Next up: Chec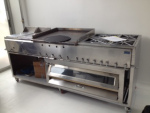 k out the kitche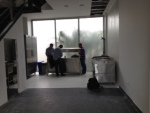 n, which Ben and his chef David have already set up and gotten all ready for me. There's gas, water, a refrigerator and a freezer, and this built- to -order contraption of a stove. It's got two fryer inserts (one can be used with water as a bain marie to keep hot foods hot, if we want); a very large plancha (flat top griddle) for making tortillas and lots of other tasks (this will be the workhorse of the kitchen hot line); four burners, two large and two smaller, with killer BTU's; and the weirdest oven I've ever seen, on the bottom of the unit. It's very long and deep, but not much height, with the capacity to be used with top heat for broiling (and melting cheese) or bottom heat for baking (or both for burning the crap out of stuff). But it has no thermostat (neither does the fryer) so we'll be working with thermometers to try to figure out how to control the heat. We spent one full day roaming the city, stopping at commercial kitchen supply shops, high end tchotchka shops and Home Depot style box stores. We came away with a good amount of basic kitchen supplies, but just try to find a Japanese Mandoline in Cali. Didn't happen. We'll be sharpening our knife skills for sure next week.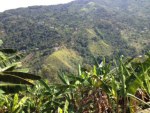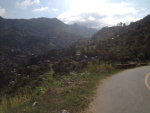 On Saturday after a bunch of hot, exhausting work days Ben took me into the hills above Cali on his motorcycle. Yes, I'm an almost 60 year old mother of 2, and I was slightly more than slightly freaked out for the 1st 1/2 hour or so. The bike weaved in and out of Cali traffic, which is insane and terrifying even if you're in a car. Then when we emerged from the city we sped along mountain roads with hairpin curves, up and up, into the most beautiful, biologically diverse country I've ever seen. The temperature dropped about 40 degrees as we climbed up to over 6,000 feet (from Cali, which is at just over 3,000 ft.). I loved being cold for just a little while! It was just what I needed, a respite from work, city, hippies and a new culture. My brain just needed this injection of awesome beauty and quiet. Now I feel ready to take on the task of creating a reasonably authentic Mexican cuisine with a whole new set of challenges!