There's no doubt that the most exhausting, frustrating and dangerous category of foodservice is off premise catering. It can also be the most profitable if you're good at the pricing, planning and organizing involved. I taught catering at New England Culinary Institute, and Richard was, for a time, the catering manager there so we're both well aware of the rewards and pitfalls. Since we've been in business we've catered a lot of off premise events. Some have gone smoothly but even the best events have their built in difficulties. There have been a few years when we've had a moratorium on off-premise events, because we felt too physically and emotionally drained to handle them. In the many years that we've been doing this we've come up with a few absolute "rules of catering" that I'd be happy to share with you.
Do Not Wear A Skirt when Catering a Wedding in the Rain.
Many years ago we arrived at the site where a tent was set up for a smallish wedding. The house that had the kitchen in it was on a hill, the tent was on a field below a steep slope leading from the house. As we pulled up to the house in our van it began to rain, hard. We unloaded the van into the kitchen, then we began to haul food and serving dishes from the house down the hill to the tent. The hill became progressively muddier and more slippery as the rain continued to pound down.
That morning I'd forgotten to do laundry, so all of my appropriate pants were unwearable. I'd been in a hurry, so I yanked on a longish black cotton skirt and put a chef's coat over it. I looked fine until I slipped carrying a full chafing dish and slid over twenty feet downhill with my skirt hiked up in back. I did the rest of the wedding with my underwear full of mud. A lesson learned.
2. When Catering a Yoga Retreat get Plenty of Information and Be Assertive.
Actually this is imperative for all catered events. If you talk to only one person your information will be very one sided and at least a few others will be unhappy. If you don't let people know what you need in order to give them what they want (or what they think they want!) everyone will be miserable.
We were asked to cater a three-day retreat in the very deep woods of central Vermont for a Yogi who was coming from India. There would be about two hundred of his followers there. They would need breakfast, lunch and dinner, with snacks and beverages all day. We were told that they were vegetarian and that we couldn't use any onion, garlic or other "stimulating" vegetables which would disturb their meditations. Holy ____! The idea of vegetarian cooking, or any cooking for that matter, that doesn't include onions and garlic seems completely impossible to me. I was able to use herbs and spices such as cumin, coriander and turmeric (non stimulating spices, I guess) so I figured I would do the best I could.
Three times a day we drove a van and a truck up winding dirt roads to set up meals and snacks. The first day we delivered breakfast and snacks: eggs, cut fruit, granola, milk and soymilk, whole grain breads, whole grain cereals, yogurt and herb teas. For snacks we set up a table with more teas, fruit juices, pita bread and dips, honey sweetened whole grain cookies. Everything looked great and I was sure they'd all be happy and grateful.
Within minutes of dropping off the food we got a panicked call from the waiter who was left at the site to help set up and serve.
"They're all freaking out, they're asking where's the coffee, they want sugar and candy bars on the snack table, they want a day's supply of brownies and chocolate …. help, they're coming to…." That's when the phone went dead.
I drove up to the site, fear gripping me, not knowing what two hundred yoga devotees craving chocolate and caffeine could have done to my waiter. He was cowering behind a storage shed when I arrived. I spoke to several of the event organizers, and found out that their definition of "stimulants" was very different from mine. No garlic, onions or nightshade vegetables, but caffeine, sugar and chocolate were required 24 hours a day to keep them all in the peaceful state required for constant meditation. With that understood we had no more problems with the food.
There were problems, however, with getting the food to the site. The dirt roads on which we drove our truck were the same roads the Yogi would slowly walk up and down several times a day, followed by at least thirty or forty acolytes quietly chanting. They walked down the center of the road, and even the sound of the old truck engine coming up behind them could not disturb their profound concentration. At first we'd follow them for miles at a crawl until we reached the top of the road and they disbursed. Finally we found a way to get by them: The driver of the truck had to lean out the window and shout, at the top of his or her voice: "Yogi says, step to the left!" Oddly, everyone would obey, the truck could pass, then they'd move peacefully back to the middle of the road
3. Never Have the Beer Delivered to the Site the Night Before the Wedding.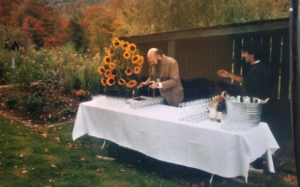 One of our most challenging wedding catering events was at a large family compound at a gorgeous mountain lake on the border between Vermont and Canada. There were ten or twelve cabins ringing the lake, along with a large social hall. A group of friends and neighbors from further down the East coast had bought the entire property, and the first of their children was to be married there. There would be two hundred people staying for several days. Those who did not own a cabin or couldn't beg a room would be camping down by the tent site on the lake.
We knew this would be a huge challenge as we would be two hours from home, with nothing but a tiny store selling fishing bait and gasoline anywhere near the site. We had to bring everything with us, so we took a trip up the day before the wedding with the non-perishable supplies, including two kegs of beer. We set the beer up in the tent, but we kept the taps with us (not being complete idiots) and went home to get ready for the wedding.
When we got to the site the next afternoon everyone there, especially the younger generation, was having a great time. The party had definitely started without us. Somehow they had figured out how to tap the kegs and at least half of the beer was gone. While my staff and I got the food ready in the social hall Richard drove all over northern Vermont, gathering up all the beer he could to replace what was gone. It was a very long day and night.
The kitchen in the social hall was far from the tent and down a long slope, so my staff and I were exhausted even before the party started. The guests were very happy, though I'm not sure they were aware of anything going on around them, as most of them had been drinking for twenty-four hours by the time the wedding actually got started. Anyway, the bride and groom (and more importantly the mothers of the bride and groom) were happy, and that's what really matters in a wedding. After we cleaned up we set up tents on the grass behind the social hall and collapsed into a deep sleep, too tired to contemplate the long drive home that night. Actually, now that I think of it, maybe it's a good idea to deliver the beer early, as it kept the guests happy while we struggled to pull off a very difficult event!
4. If You Need to Hire a Refrigerated Truck, Always Have a Backup Plan
Possibly the most stressful catered event we've done was for a lovely woman from Houston who wanted to give her son a beautiful rehearsal dinner in New Hampshire. Actually we were pretty sure after chatting with her that she was a very competitive type, and wanted to make sure that the rehearsal dinner would outshine the casual farmhouse wedding that the brides parents were hosting the next day. She'd heard from a local friend that we were the caterers to get, and she was willing to pay quite a bit. We knew the logistics of catering a sit down dinner for 225 people in August, in a different state, more than an hour and a half from home would be very challenging but money was no object and the job was hard to turn down.
Actually this event started with a lot of confusion. When Mrs. H emailed us from Houston in February of 2007 she asked if we would submit a proposal for an event in July of 2009. I figured, what the hell, I might as well. Since the event was so far off we'd be sure to figure out a way to do it in a year and a half. We had no real catering vehicles, no refrigerated truck, and not nearly enough staff to do an event like this, but I knew I had plenty of time to get it together if our proposal was accepted. She accepted our proposal in April, then asked where to send the deposit. I replied that I could not take a deposit until six months before the event, whereupon she asked what the heck I was talking about, as the dinner was only three months away. I realized the mistake and freaked out, but it was too late to back out.
Mrs. H wanted an hour of elaborate passed hors d'oevres on the village green, then a three course seated dinner upstairs in the function room of the town hall. The town hall was a beautiful, elegant looking 19th century building with graceful columns and large windows. I'm sure the invitation specified that this was to be a very elegant event and accordingly everyone was dressed to the teeth in satiny dresses and suits for the men. However, the old building never had air conditioning installed, and wouldn't you know, it turned out to be the hottest day of the summer, with temperatures in the high 90's. This translated to approximately 130 degrees upstairs in the dining room.
We had suggested 10 waitstaff, but Mrs. H. wanted everything to go very smoothly and requested 15. That made a total of 25 service personnel including waiters, bartenders, cooks, dishwashers, and of course Richard and I to run the event. We planned everything like the landing on the beach in Normandy. Richard arranged to rent a refrigerated truck, bought extra insurance, coordinated the pickup and loading of the truck to the second. We organized our staff and met at our restaurant where we loaded up and started to wagon-train with the truck and several other vehicles.
The truck left first. Several minutes later I left in a van with several other staff members. Shortly after that I passed the truck on a hill. It was doing 10 MPH and I could see Richard on the cell phone yelling at someone and looking as stressed out as I've ever seen him. I got on the highway and called Richard. He explained in a panicked voice that the truck would not go any faster on a hill. There were lots of hills between us and the event in New Hampshire. Richard was afraid that the truck would completely conk out. We had thousands of dollars worth of food in the truck and if it didn't get there on time (or at all) we would have the biggest mess of our careers on our hands. Mrs. H. was a lovely woman, but she was from Texas, and we knew she was solid steel under her well-coifed hair and lovely silk suits. We were actually terrified of her.
The staff and I got to the event and started setting up as if there was no problem. We had no food but we had beverages and serving platters and we managed to look busy when Mrs. H's wedding planner showed up. She was as type A as they come, and we had our hands full pretending that everything was going according to plan so she wouldn't freak out. Meanwhile Richard was negotiating with the rental company. They didn't have another refrigerated truck, so we would have to make do. He arranged for the rental company to meet him at a predetermined spot on the highway with a tow truck, and tow him over the hills if need be. He was sweating in the ninety degree heat while we tap danced at the party, diverting questions and trying to look as busy as any well prepared caterer would. Two hours later and less than ½ hour from the start time of the party Richard pulled up in the truck. He had managed to baby it up the hills, but as soon as he pulled it into a space at the front of the hall we knew it wasn't going anywhere that night.
Somehow we managed to pull it together and put on the party as if nothing had gone wrong. Large fans had been rented to try to cool down the dining room, but they blew the expensive linens off the tables so the party planner ordered them turned off. The guests sweated through their expensive clothing and the chocolate mousse desserts in molded chocolate cups melted before we got them onto the tables, but we got through it. Twenty five staff members plus Richard and I drove home after midnight, leaving a refrigerated truck full of equipment and garbage to sit in the 100 degree heat until the rental company could come and tow it home.
Is any of this stress, anxiety and huge amounts of sheer physical labor worth the money? It's a good question. Most of the events we've catered have been for lovely people who have thanked us profusely for making their special day perfect and memorable. We've done multiple weddings and Bar Mitzvahs for families that have since become great friends. When we cater a wedding we've made a customer for life at Ariel's, as they tend to come back to celebrate anniversaries at our restaurant year after year. All in all it's probably worth it, but we learned to limit ourselves to two or three off premise events per year, in order to maintain our tenuous grasp on sanity.