In 1987 I decided I really missed New England, and I would do my damnedest to get back up there. Through an ad in a culinary magazine I found out about a restaurant manager job at the New England Culinary Institute in Montpelier, Vermont. I applied, they flew me up for an interview, then flew me up again for a cooking test. They eventually hired me as a chef-instructor for the second year class in Catering. That's where I first met Richard .
Family legend has it that we loathed each other on first sight, although Richard tells me that it's not the case, it was only me that loathed him. Richard had moved to Vermont two years before to live on a piece of land owned by his parents, and to try to rebuild the small house on the property that had been allowed to fall into disrepair. He was working at the Institute's fine dining restaurant as a bartender/waiter. I was angry, exhausted, bedraggled, forced into making and delivering tidbits for the bar of the restaurant at the end of a 10 hour day trying to teach green kids how to cater high end weddings. I stumbled into the bar, slammed a tray of hors d'oevres down on a table and snarled "here, dammit. Hope they choke someone who deserves it!" Richard, drying glasses at the bar, smiled goofily and said "and good afternoon to you, too". I assumed that he was an ass, he decided that I was somewhat nasty, but intriguing.
After a year I left the school to be the executive chef at The White House, a gorgeous small country restaurant run by two very elegant gentlemen: Leo Romero, owner of Casa Romero in Back Bay, Boston, and his interior designer partner Iory Alison. I was loving the freedom I was given to create an entirely new menu whenever I wanted to, using the produce from their extensive gardens, and serving quirky, imaginative food for up to 50 people per night at the exorbitant price of $27.00 for a 3 course fixed price dinner.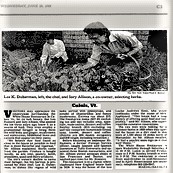 One night in walked Richard, trailing after Lana, a waitress at the White House who just happened to be Richard's ex girlfriend. He took a job as a waiter there, and we started warily circling each other, realizing how much we had in common, and starting to dislike each other less and less. He worked upstairs in the formal dining room, whereas I was in "the dungeon", an underground kitchen that was humid as hell in the summer and bone shatteringly cold at the end of our season, after the leaves fell and the "leaf peepers" departed the state. Lana (conveniently) took off for other parts, and shortly after Richard asked the question that shaped our lives for the next oh so many years. He had been popping down to the dungeon in between customers and peering over my shoulder at the plates that I was composing. I have to assume he was impressed with my cooking, since he asked me to open a restaurant with him long before he asked me for a date. That came a bit later, after, I'll admit, more than a little very obvious hinting on my part. When the season ended, Richard moved into the little cabin on a tiny lake that I had purchased the previous fall. We have not been apart for more than 2 weeks at a time since then. Two kids and four restaurants later and we're still together. Go figure.
The About Thyme Cafe (1989-1994)
A year later we left the White House to open our first place, the About Thyme Cafe– a tiny gourmet shop and caterer in Montpelier, Vermont's capital. We found a space on one of Montpelier's two major streets just a few blocks from the statehouse. It had already been part of a sandwich shop so the permits for a restaurant were easy to get. Our friend Mick from our monthly poker group was a carpenter, and another close friend, Cameron, a former chef, was a terrific cabinetmaker. They quickly made that place into a charming little (very little) cafe, with a black and white tile floor and a picture window on the street. Richard and I, in what has become a pattern for all of our restaurants, shopped in funky barns, used furniture stores and old churches. We attended auctions where other restaurateur's misfortune became our good luck. We picked up hanging lights from an old theater and a huge, salmon pink display case from a closed restaurant. That became the focal point of the cafe, along with the elaborate Old Italian copper espresso machine that we found in an old barn and which took up almost the entire back counter. In 1989 there were few espresso machines in Vermont so we were counting on ours to generate some interest.
From the beginning business sense took a back seat to an unshakeable desire to do things the best possible way. This almost always meant the hardest possible way. In a tiny space with a kitchen 7 feet wide by 20 feet long I made everything from scratch. We baked our own breakfast pastries, made five kinds of bread for sandwiches, corned our own beef, roasted our turkey breasts, made mayonnaise and olive relish for our Muffalettas.
At that time Montpelier was known as a hangout for aging hippies, mostly due to the nearby presence of Goddard College. There were plenty of cooks who had been trained by the local health food restaurant and who knew everything about herbal teas and how to make whole grain breads and spelt flour/safflower oil scones. Except for the New England Culinary Institute students there were few who knew anything about European style pastries and perfectly pulled espressos. We trained our young staff from scratch to work the espresso machine although no one ever quite met Richard's exacting standards. I did all of the recipe research and development myself, and I was lucky enough to find a few fabulous women who were eager to learn my style of cooking. Pat, Margaret and Annie turned out to be talented and intuitive cooks, and became some of my best friends. I worked with them on and off for more than 20 years.
With our young and willing staff we catered weddings, tree farm anniversaries, 3 day yoga retreats. Campers from nearby "Rainbow" celebrations used our restrooms to bathe and change their aromatic clothing no matter how nicely we tried to shoo them out. Montpelier is the Capital of Vermont (the smallest capital in the US, and the only one without a McDonalds – we're very proud) and The About Thyme Cafe was located pretty much across from the Statehouse, so we sent many lunches to the Governor's office – first Madeleine Kunin, then Howard Dean- and catered dinners for Patrick Leahy and many other Vermont politicians. After a few years of breakfasts and lunches we started doing weekend dinners, giving me a chance to create new menus weekly. We used local produce from nearby farms in the early 1990's, when no one had heard of such a thing. We charged $3.75 for our house made corned beef sandwich on house made Jewish Rye, and while people did complain about the price they lined up outside the store to buy them.
We worked 14 hours most days but had our nights mostly free. We finally accepted the inevitable and got married in 1991. Our staff was able by that time to run the place without us for two weeks while we went on a honeymoon, our first time off in years. Hitchhiking around Belize we watched the first Gulf war begin, on black and white portable television sets in funky dive bars on Cay Caulker. We were a little nervous about what we would find in the Cafe when we returned. When we did get back we found that Margaret and the other nut-cases who worked for us had decorated the outsides of the coolers and the walls of the cafe with slices of luncheon meat and processed cheese to welcome us. Other than that the business seemed to be intact.
Unfortunately shortly after that the economy started to nosedive and business became somewhat less consistent. In March of 1992 a massive flood caused by ice floes on the Winooski River shut down the main business district of Montpelier. Over six feet of water rose in the streets. Our little store was mostly destroyed, along with all of the other businesses along Main and State streets. Our storage in a basement next door was completely under water. We lost almost everything. The next day the temperature dropped and the remaining floodwaters froze. Over the next few days our wonderful friends and loyal customers helped us clean up, haul out, and throw away much of what we owned. FEMA did a wonderful job of getting money to those of us who could not rebuild without it, and we were lucky enough to have flood insurance. Three days after the flood we were open and serving pastries and coffee to the clean- up workers. Within a week we were fully in business again.
Between the economy and the flood our business never really recovered its former vitality. In 1993 Richard and I had a son, Simon Ariel. I worked up until my water broke, so he was definitely going to be a baby who was comfortable hanging around restaurants. For the first nine months of his life we brought him to the cafe at 6AM every day and set him on a worktable in the kitchen in his little basket. As he got bigger we would pass him out to our regular customers who would hold him and play with him while we got through the breakfast and lunch hours. Occasionally Richard would put him in a baby carrier on his back, and by the time he was 8 months old Simon had learned to open the drawer on the cash register. We weren't sure whether that was a good thing or not.
ln March of 1994, five years after opening it, we sold the About Thyme Cafe. We were exhausted, the bills kept coming and just keeping up with them required more work than we could do with a 9-month-old baby.
Today, more than 25 years after closing the cafe we still have people stopping us on the street to ask for recipes. Some of the food we made was an everyday part of people's lives. They still crave our Cranberry Cream Cheese Buttermilk Biscuits. Roasted Root Vegetables went home with so many people for dinner that we had to make them fresh sometimes twice a day. Our brownies, lemon bars and chocolate chip cookies were standard at every state government meeting. My two years in New Orleans showed up in the gumbo, muffaletta sandwiches and the red beans and rice served on Mondays, as is traditional in New Orleans.
Here are a couple of the every day recipes from the About Thyme Cafe. I'm excited about putting these dishes out into the world. It gives all of the work we did at the About Thyme Cafe a place in peoples lives all these years later.
Roasted Root Vegetables
A great dish to make in the fall and early winter when root vegetables can be bought locally in most areas. Get the sweetest and most flavorful you can.
Dice approx. ¾ inches square at least 3 of the following vegetables for a total of 6 cups of vegetable cubes. Try to make them all about the same size.
Peeled Butternut Squash, unpeeled Delicata squash, Peeled Sweet potatoes, Peeled Carrots, Peeled Parsnips, Peeled White turnips, Fennel bulb, Peeled Beets
1 head garlic, peeled and broken into separate cloves
1 large diced red onion
1/3 C. olive oil
1 T. fresh rosemary leaves
1 T. salt
½ t. pepper
Preheat oven to 375 degrees.
In large bowl toss vegetables with olive oil, garlic cloves, red onion, rosemary, salt and pepper. pour out onto sheet pan in one layer and roast in 375 degree oven(if using red beets, roast them separately and combine after all vegetables are fully cooked). Stir and turn vegetables ½ way through cooking. Remove from oven when all vegetables are lightly browned and tender.
Lee's Mom's Cole Slaw
A light, tangy slaw, perfect for piling on top of a pulled pork sandwich or bringing to a family barbecue.
3 C. shredded green cabbage
1 C. shredded red cabbage
½ C. shredded carrotsl(about 1 med. carrot)
½ red onion, thin sliced
dressing:
½ C. mayonnaise(preferably homemade, but good store bought will do)
½ C. plain lowfat yogurt
2 T. cider vinegar
2 T. honey
1 T. dijon mustard
salt and pepper to taste
Whisk together dressing ingredients in large bowl. Add vegetables and mix well. Refrigerate for an hour or so before eating. Check for seasoning before serving.